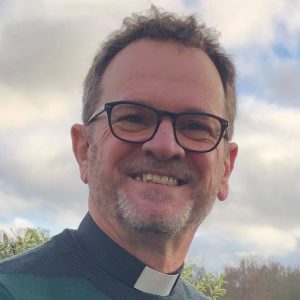 With great excitement we announce the appointment of Rev. Rex Morton as Assistant Chaplain to join myself and Ray and Hilary in the New Year.
Rex will add to the ministry in which we share; his background in parish ministry and his experience of healing in his own life is a real asset as we seek to serve the needs of others and to bring encouragement and training to the healing ministry within our diocese.
You can read more about Rex here.
We hope Rex will be licensed in our chapel on Thursday 20th January by Bishop Rose – if regulations allow us to gather!
2022 – You can join us online for worship on the first Thursday of the month (6th January 10.30am). If you require the link please contact us.
Apologist, bishop and theologian of the 2nd century St Irenaeus said that the 'glory of God is a human being fully alive'.
In the infant Jesus we experience a human being fully alive and God fully divine and alive, so this quote from Irenaeus must mean that the glory of Jesus is thousandfold or more – may you revel in His love, light, joy and peace this Christmas.
Our continued thoughts and prayers for you all, and our willing service to you as we look to God for our healing and for His reassurance to rest upon our lives in the year ahead.
Do contact us if we can be of help to you personally or as a parish.
Lorraine
Rev. Lorraine Apps – Huggins
Lead Chaplain