This was an awakening phrase in my mind earlier this week – what could it mean?
It felt good, positive, full of promise, but what did it mean and where had it come from?
Google didn't help – there was a First Edition Book called The Golden Room and there is a Czarina's Golden Chamber in the Kremlin, but nothing matched 'First Golden Room'.
These days at home are not without their struggles.
There are work responsibilities even if they look different now. There are colleagues, family and friends to contact and encourage. There is shopping and some external requirements. There is the need to look after yourself, and others, to get some exercise, fresh air and stimulation. There is the garden and the housework…there is the need to attend to the daily news regarding our global health, local situations, our social and economic condition.
Could all of this be described as our First Golden Room? And if so why?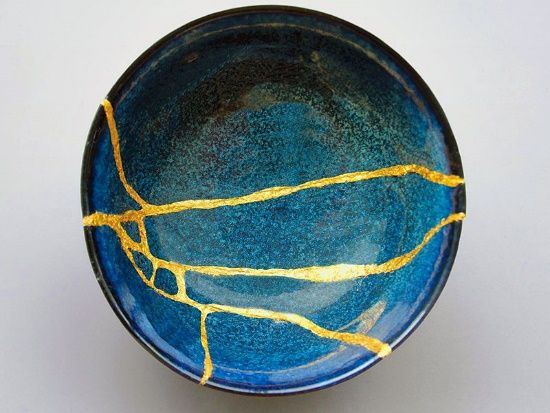 Golden opportunities arise sometimes unexpectedly.
The art of repairing broken pots and jugs in Japan called Kintsugi creatively pours golden liquid between the broken pieces of the vessel and fills the cracks so that the item is restored and the gold becomes an integral part of it's beauty.
Caterpillars that will metamorphosise to become exotic butterflies surely never know in their darkened chrysalis that the outer shell of the chrysalis is often of stunning beauty itself. Little jewel encrusted capsules with traces of shimmering gold threaded around the cocoon – they may not know it, but they are in their First Golden Room….

St. John in Revelation 21:18 sees our heavenly city and says: 'the city itself was pure, transparent gold like glass!' One day we shall enter that same holy place, see and experience transparent gold…
So now, Easter, just after we contemplate the broken Jesus of the cross, the emptiness of the darkened tomb and then celebrate the risen, glorified (this surely invites bright shining gold!) resurrected Jesus of the early morning garden should we not also see that all of this might be part of our First Golden Room?
Jesus who reconciles all things together in His body upon the Cross, who takes the upright vertical beam of the cross and bears it with it's absolute opposite, the horizontal beam and turns these two into one meeting place – our First Golden Room? The Place of Reconciliation of Opposites?
Colossians 1:15-20 The Preeminence of Christ
He is the image of the invisible God, the firstborn of all creation. For by] him all things were created, in heaven and on earth, visible and invisible, whether thrones or dominions or rulers or authorities—all things were created through him and for him. And he is before all things, and in him all things hold together. And he is the head of the body, the church. He is the beginning, the firstborn from the dead, that in everything he might be preeminent. For in him all the fullness of God was pleased to dwell, and through him to reconcile to himself all things, whether on earth or in heaven, making peace by the blood of his cross.
Lord lead us to yourself, the Great Reconciler – our provider of Golden Rooms in which to dwell.
Amen.
Rev. Lorraine Apps – Huggins, Chaplain.